At slå bestikket i tallerkenen for, at få brudeparret til, at kysse hinanden.. og bruden til, at vise strømpebåndet, hører til de nyere bryllupsritualer. Der findes flere kysse-traditioner… over og under bordet.
Skal vi fotografere jeres bryllupsbilledeR?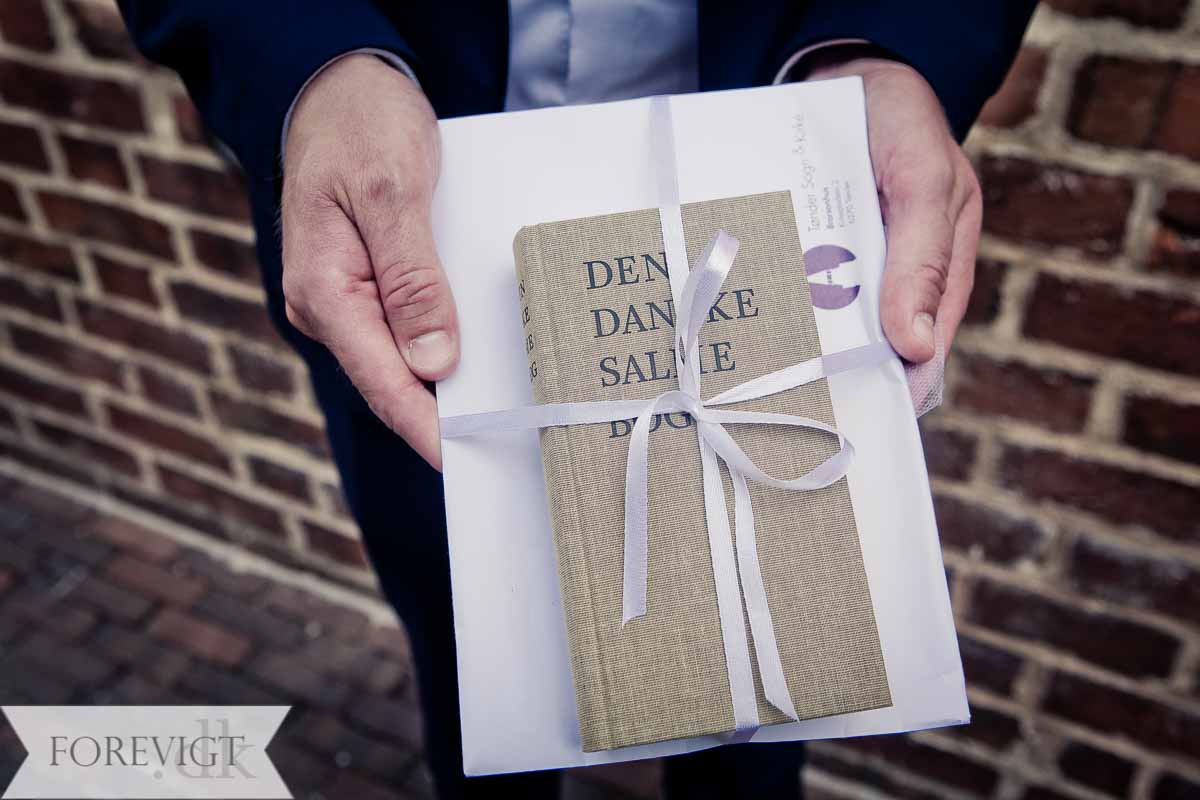 Ét af kysseritualerne
Ét af kysseritualerne, som er omkring 20-30 år gammelt, går ud på, at alle gæsterne slår på tallerknerne med deres bestik – hvorefter brudeparret skal rejse sig og kysse hinanden, og også gerne stille sig op på stolene mens de kysser. Dette ritual gentages adskillige gange under festen, og i forbindelse med "kysningen" bliver bruden opfordret til at vise sit strømpebånd, hvorefter hun løfter op i skørterne og viser det frem for hele selskabet…

Denne skik med at skulle vise strømpebånd er dog ikke mere end nogle få årtier gammel, ligesom der er kommet en "mandlig pendant" til skikken – nemlig den, at brudgommen skal vise selskabet sine underbenklæder!! Det har mange brudgomme efterhånden gjort, ligesom nogle har forsøgt at lave yderligere sjov med dette ritual ved at iføre sig dametrusser eller hospitalsundertøj.
Det intime kys starter som det almindelige kysseritual, men her skal brudeparret gå under bordet og kysse
På nogle restauranter og i nogle festlokaler er det ikke tilladt at hamre bestikket ned i tallerknerne, og det bør man selvfølgelig respektere, ligesom man nok bør overveje at begrænse dette larmende ritual en smule. Når der bliver hamret i porcelænet for 15. gang er det ikke sjovt længere!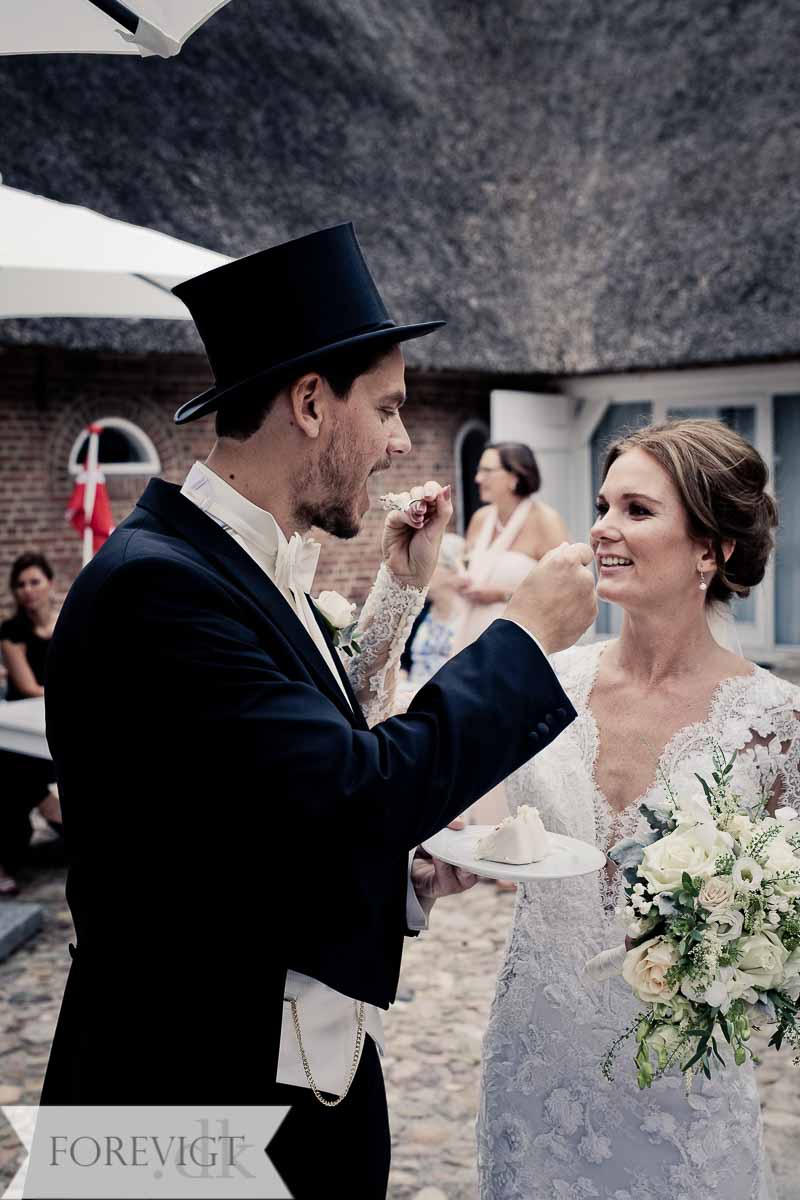 Kysseritual nr. to
Kysseritual nr. to går ud på, at hvis brudgommen forlader festlokalet – eksempelvis for at gå på toilettet – så rejser alle herrerne i selskabet sig og går op og kysser bruden – og omvendt, hvis det er bruden, der forlader lokalet. Denne skik har efterhånden også bredt sig til hele landet. Førstnævnte kysseritual med at slå i tallerknerne med bestikket kendes også i f.eks. USA, hvor det forekommer ved de fleste bryllupper.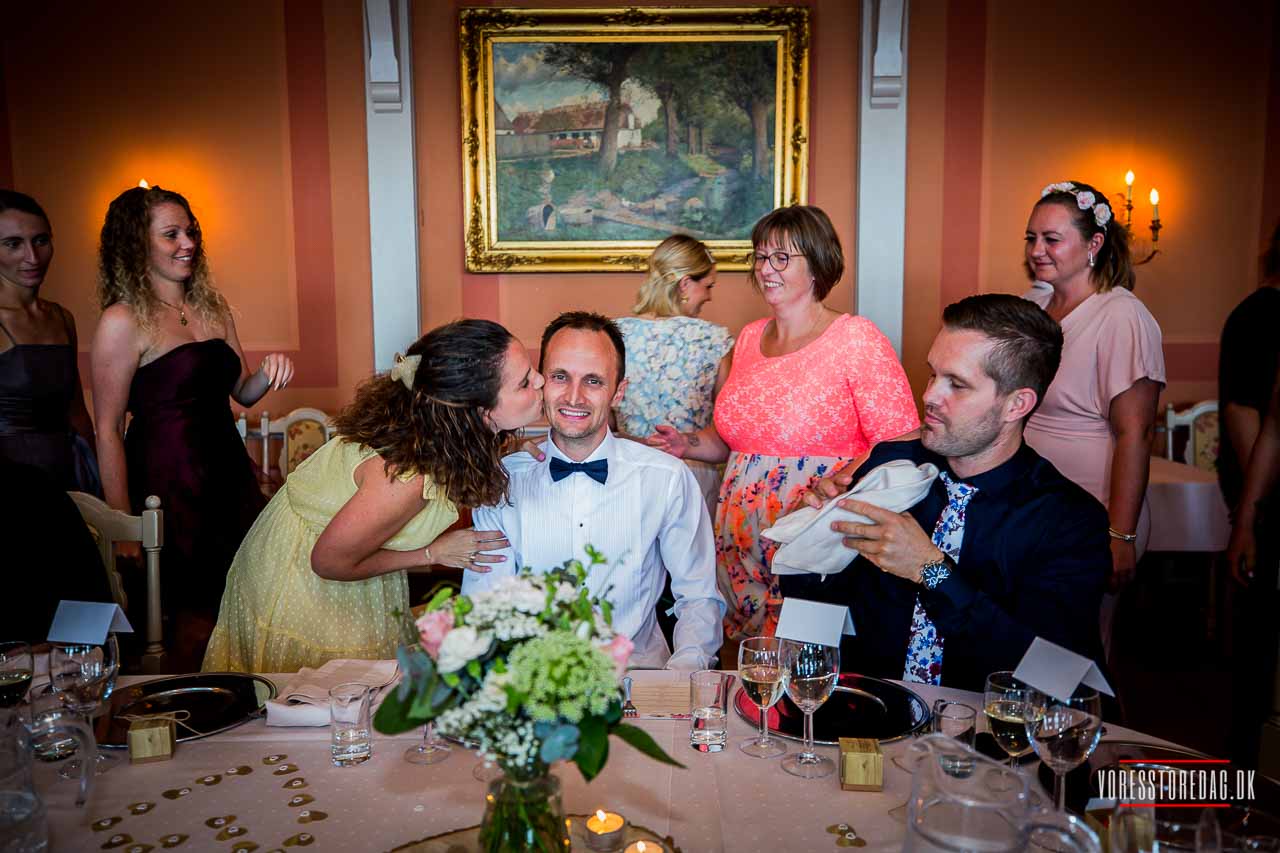 Mere om strømpebåndet
Mange brude bærer et blåt strømpebånd, eller et strømpebånd med blåt pynt på bryllupsdagen. Det er en nem måde, hvis man følger traditionerne og skal bære noget blåt.
I flere lande, bl.a. Amerika og England, er det skik og brug at brudgommen skal tage brudens strømpebånd af og kaste det ud blandt bryllupsselskabets ugifte mandlige gæster. I Danmark ses det nogle steder, at bruden selv kaster strømpebåndet.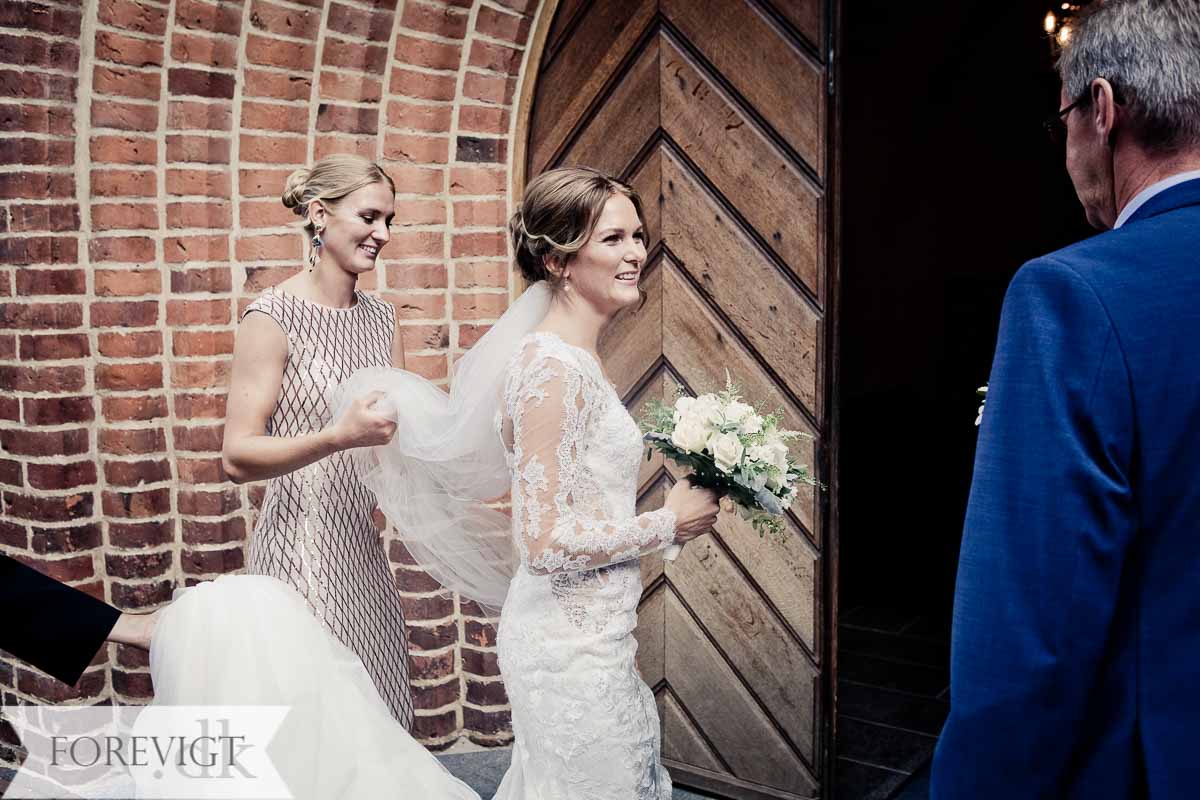 Denne skik stammer fra en middelalderlig europæisk skik, hvor brudesvendene – specielt i de fyrstelige eller adelige kredse – skulle forsøge at få fat i brudens strømpebånd i forbindelse med sengeledningen. Sengeledningen foregik i gamle dage (omkring 16-1700-tallet) når håndfæstningen, dvs. selve ægteskabsløftet var blevet givet, og den gik ud på, at brudeparret blev ført til brudesengen af alle gæsterne. Først herefter kunne fuldbyrdelsen af ægteskabet ske.

For at vende tilbage til skikken med strømpebåndet, så var selve båndet forbundet med stor ære og værdighed, og derfor gjaldt det for de mandlige gæster om at erhverve sig dette strømpebånd, som de så kunne bære på deres hat. Derfor hændte det ofte under bryllupsfester i Frankrig og England, at mændene, allerede under middagen, kravlede ned under bordet for at få fat på strømpebåndet!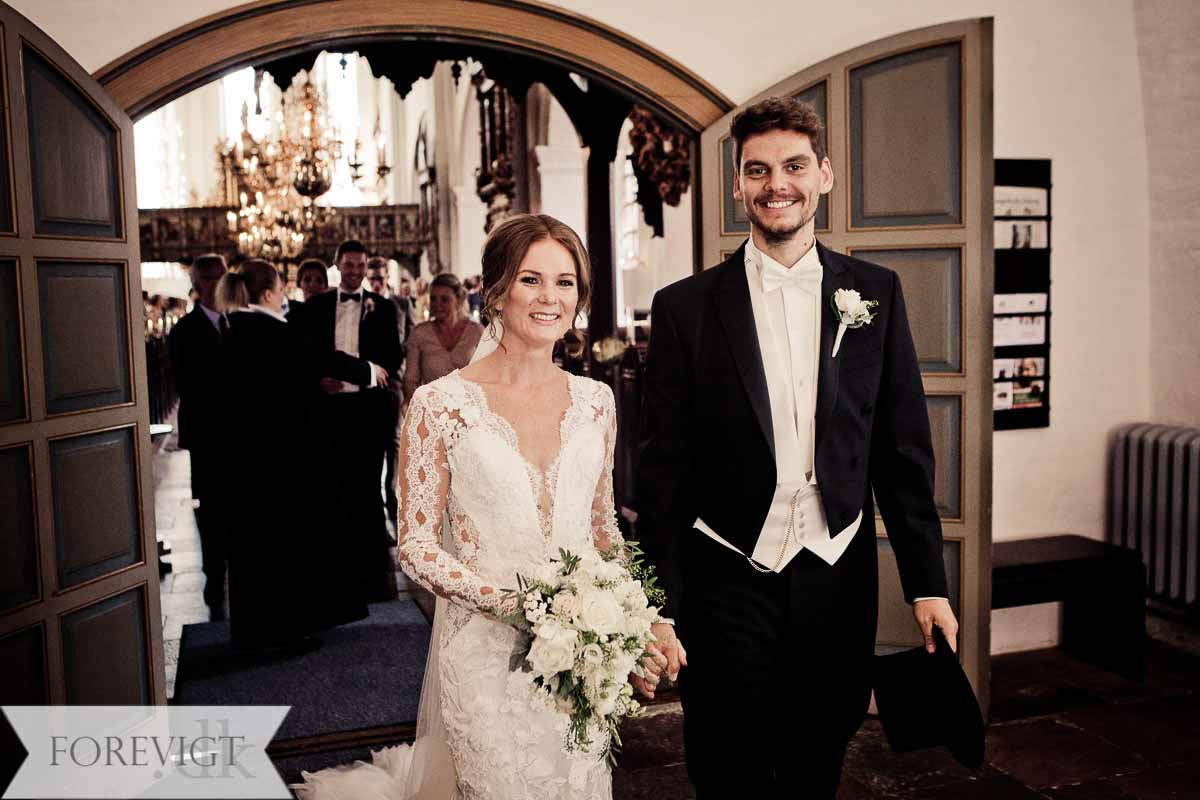 Gommens sokker
Umiddelbart efter brudevalsen rives først brudens slør i stykker, hvis altså hun ikke har modsat sig det, hvorefter brudgommen får klippet et stykke af sine sokker eller sit slips. Denne skik er, så vidt vides, af nyere dato, og det vil sige fra det 20. århundrede. Dog skyldes den sandsynligvis et udtryk, der i virkeligheden går langt tilbage i tiden. At gå på frierfødder, frierben eller friersko har siden 1700-tallet i spøgende vendinger været benyttet om én, der søgte efter en lejlighed til at fri til en kvinde eller om én, der tænkte på at gifte sig. Det endnu ældre udtryk "at gøre sine hoser grønne" betyder at indsmigre sig hos én ved høflighed og galanteri, og det brugtes ofte om erotiske tilnærmelser.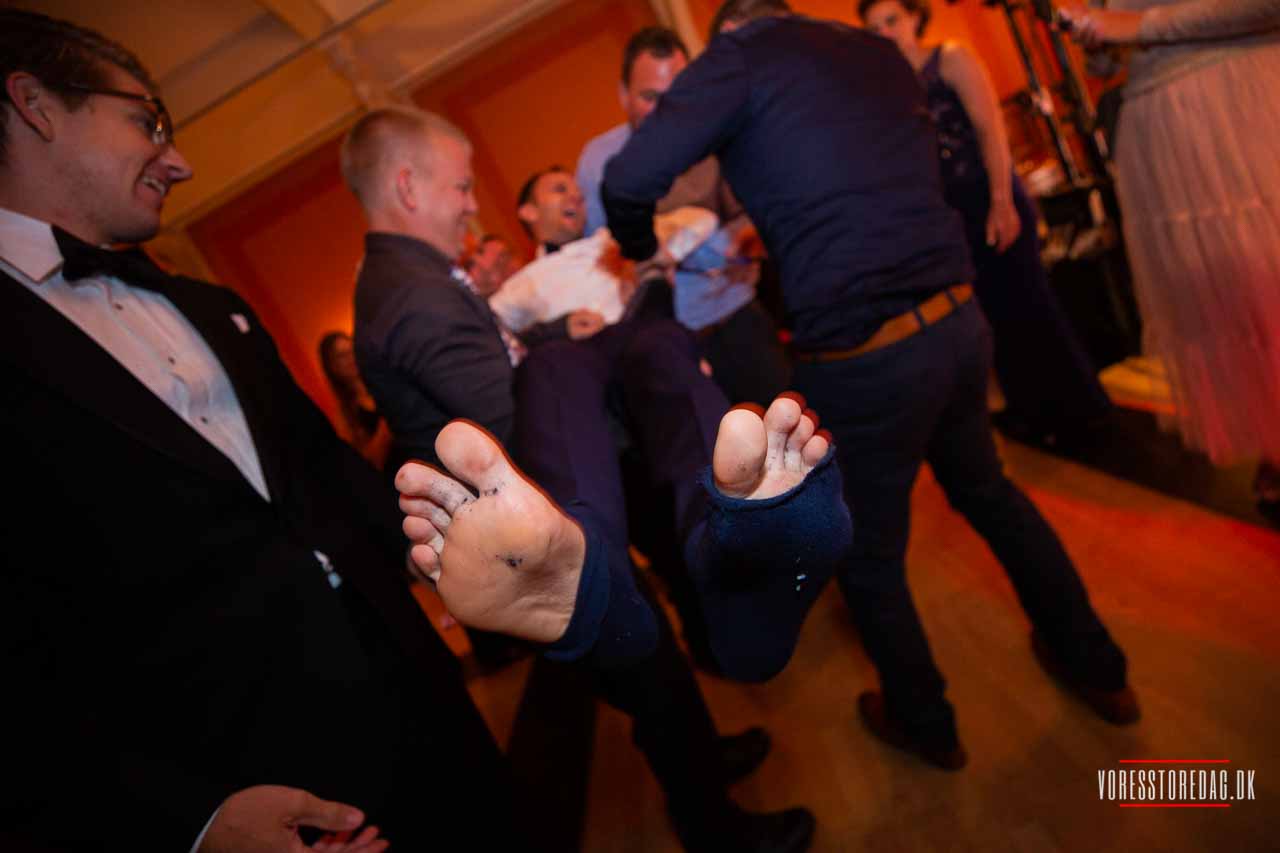 Så at klippe et stykke af brudgommens "grønne hoser" eller frierfødder netop den dag, han træder ind i de giftes rækker, er det samme som at hindre ham i den slags udskejelser fremover. I virkeligheden svarer denne handling til, at man før i tiden satte mandshatten på brudgommens hoved under brudedansen. I dag ses det ofte, at brudgommen har lakeret sine tånegle med rødt eller blåt neglelak inden brylluppet, hvilket giver anledning til lidt latter på dansegulvet, når venner og familie klipper strømpespidserne af.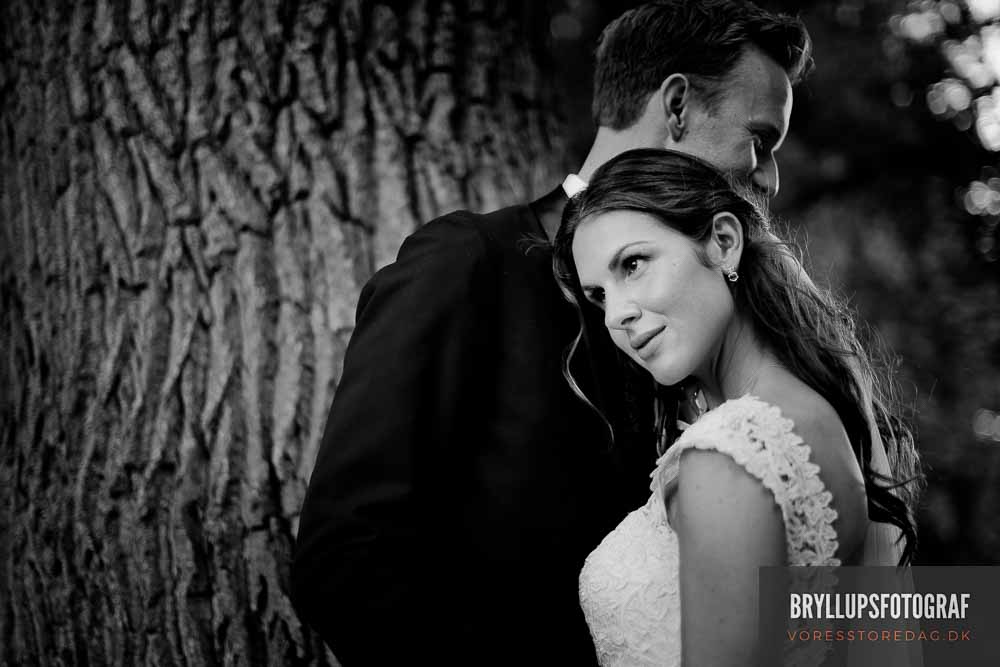 Indenfor de seneste år har dette klipperi altså også udviklet sig til at omfatte brudgommen slips eller butterfly. Disse beklædningsgenstande, der alene har et dekorativt formål, tager manden bl.a. på, når han skal ud at gøre sine hoser grønne – så derfor mener nogle, at det naturligvis er derfor, at slipset også klippes i stykker. Det er endda kommet så vidt i slutningen af 1990'erne, at også gommens underbukser skal klippes i stykker – men om det så skyldes, at man vil skåne den nygifte hustru for – fra første dag i ægteskabet – at skulle vaske mandens beskidte underbukser, vides ikke !?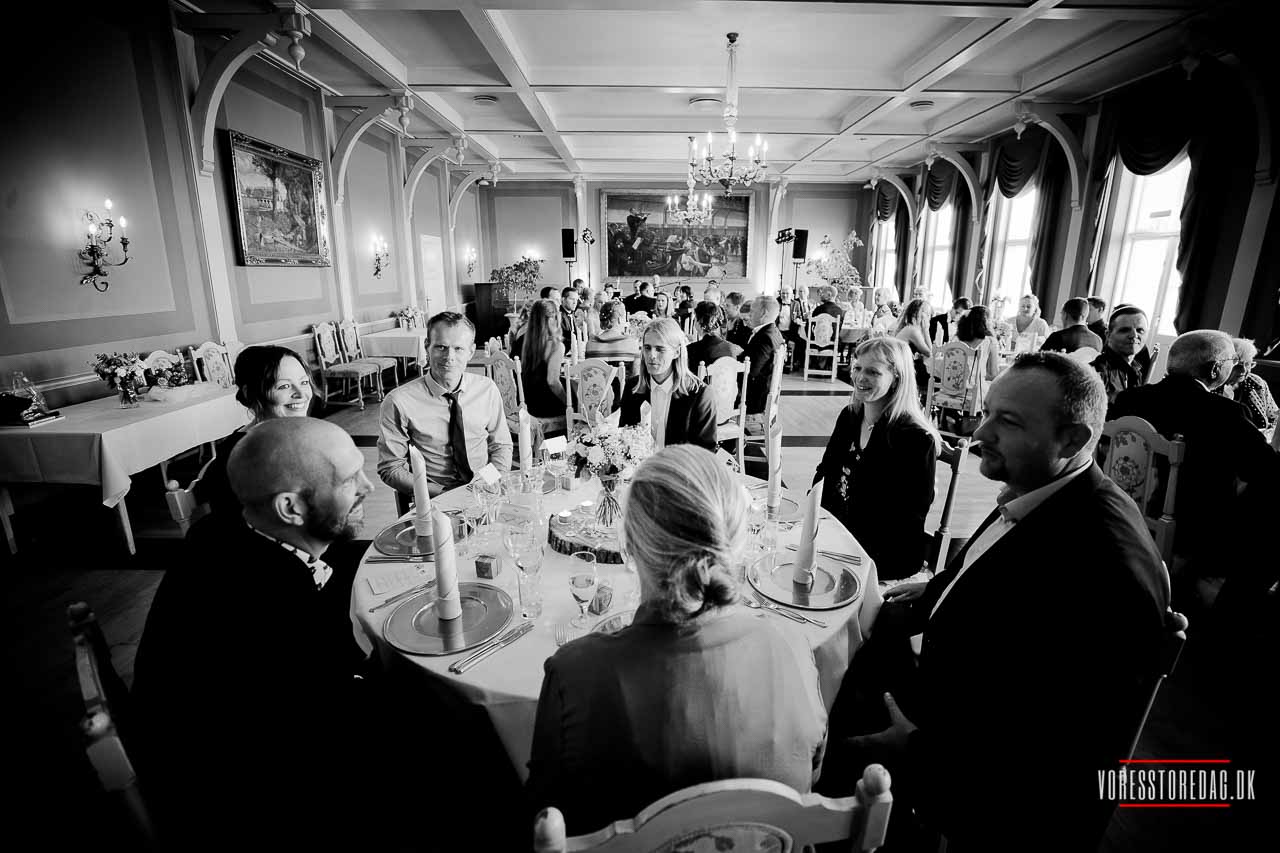 Læs mere: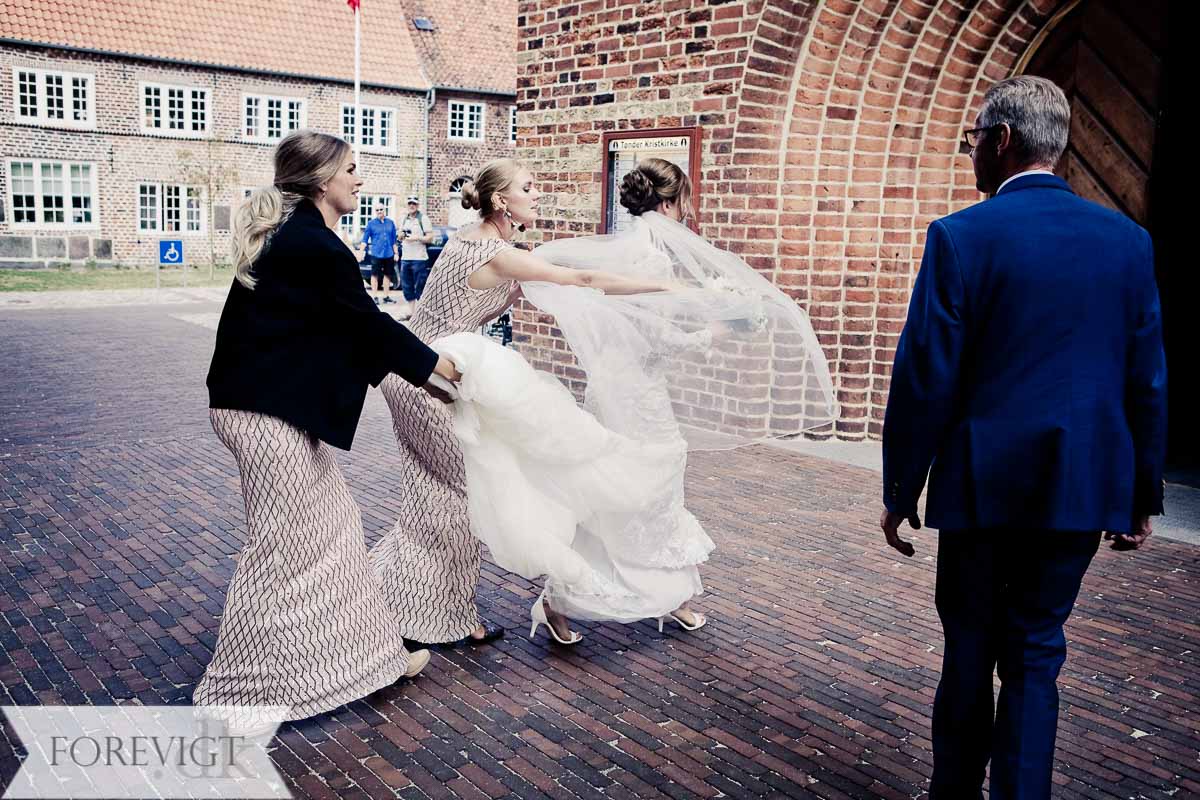 Brudesløret
Skikken med at bære brudeslør stammer oprindelig fra gammel tid, hvor det kun var ugifte piger, der havde løst hængende hår, mens gifte koner skulle tildække deres hår med hue eller slør. At bære slør ved sit bryllup kom dog først som skik til Danmark ca. i midten af 1800-tallet.Det blev med tiden en tradition at rive sløret i stykker, og i stedet give bruden konehue på.

Kirken fremhævede på et tidspunkt, at sløret var et symbol på sømmelighed, tugt og blufærdighed, og derfor kunne det kun gives til de jomfruer, der blev viet til Gud, eller til dydige unge kvinder, der skulle giftes første gang.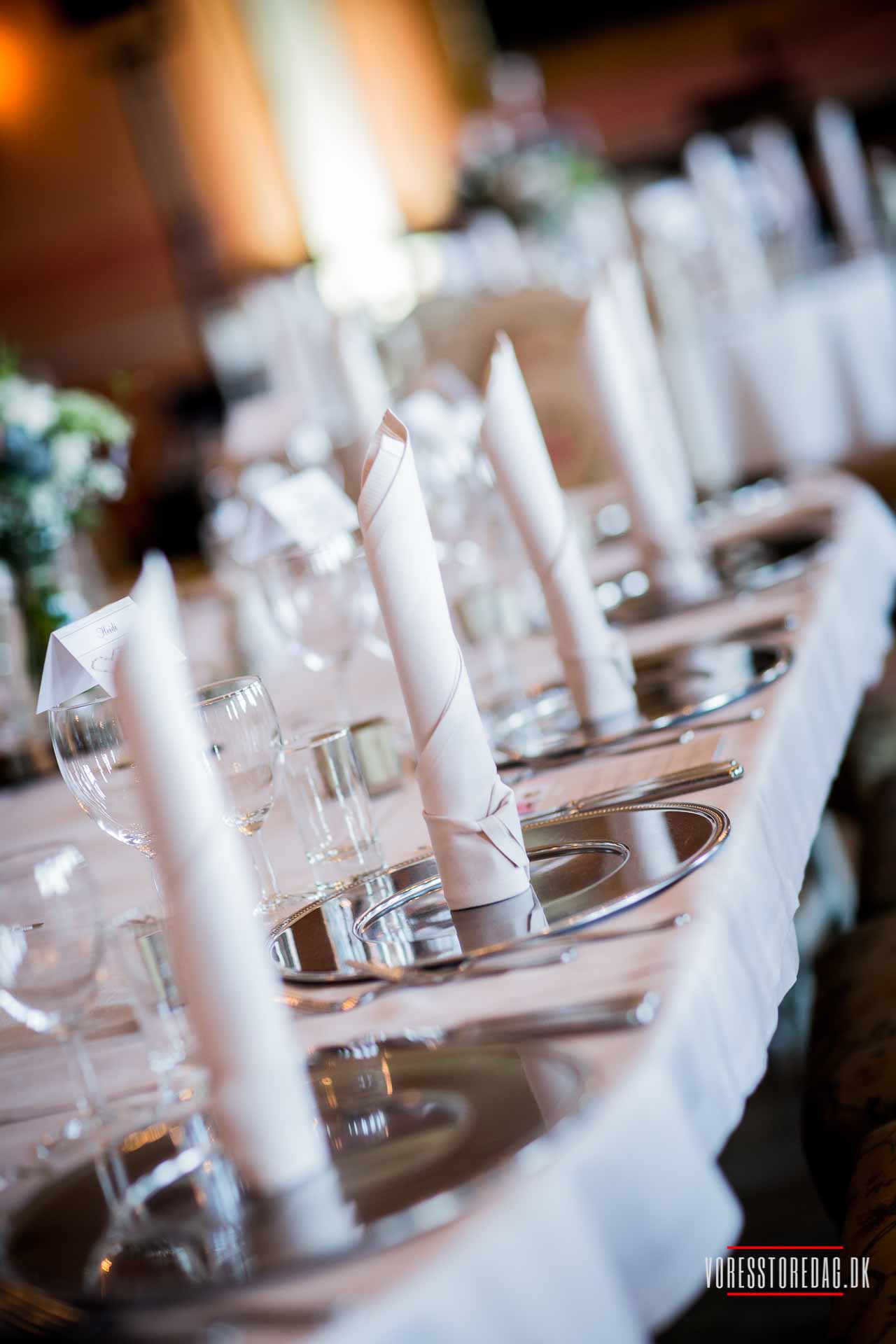 Som med mange andre skikke brudesløret først til borgerskabet – byboerne. Det var først i slutningen af 1800-tallet at man på landet begyndte at bære brudeslør – indtil da havde bruden båret enten en brudekrone, eller en bestemt hovedbeklædning bestående af tørrede blomster, tøjblomster og kulørte bånd. På det tidspunkt, hvor sløret igen blev moderne som en del af brudens beklædning, blev de symboler, der knyttede sig til udslagent hår og brudekronen, overført til sløret. Så på den måde fik brudesløret sin "oprindelige" betydning igen – fra dengang det var unge, ugifte jomfruer, der bar slør.
Bryllup Odense S
Bryllup Roskilde
Skovpavillon Assens
Bryllup i Tilst
Bryllup Jylland
Bryllup Jyllinge
Bryllup Kahler Dining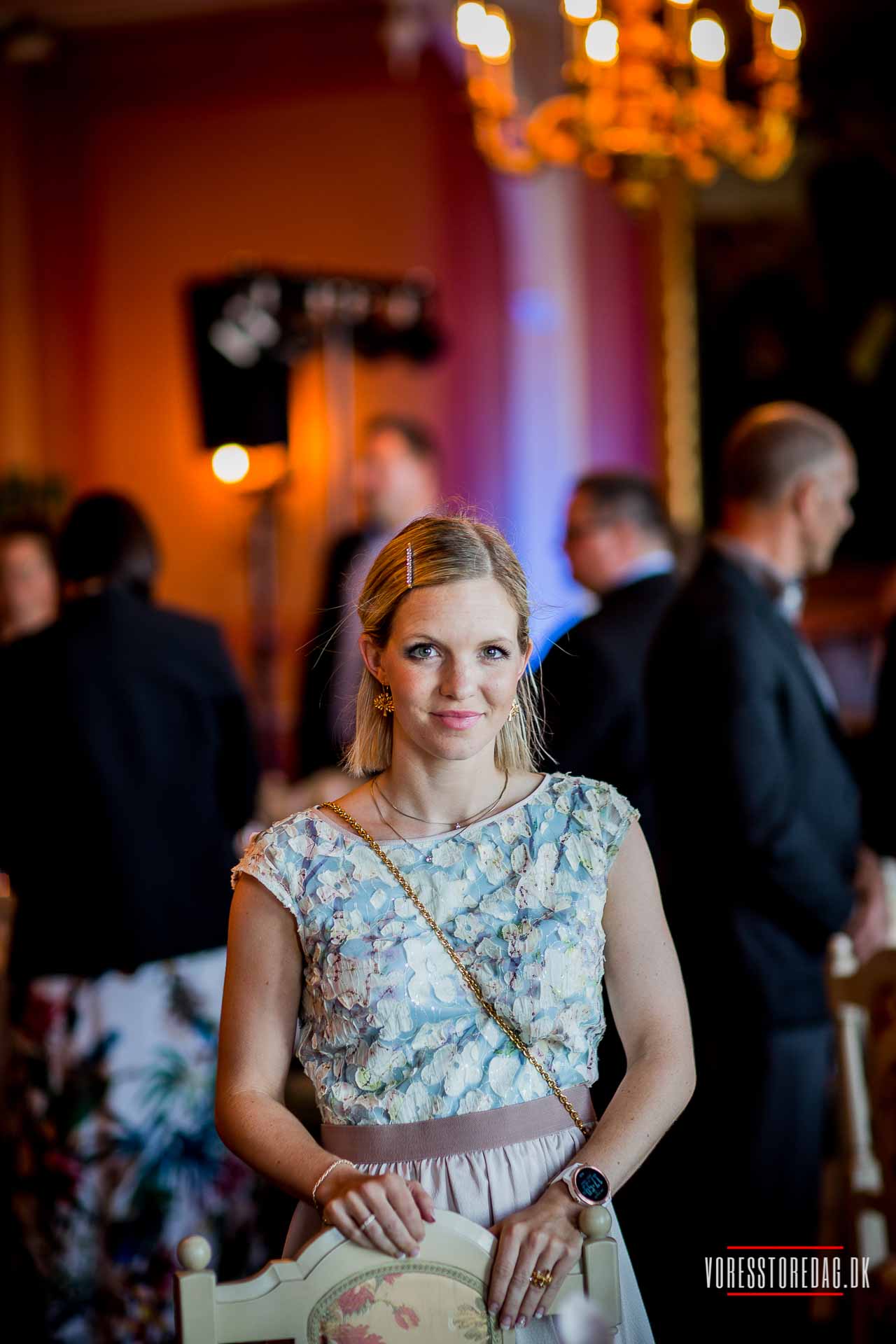 Nogle mener, at brudeslørets oprindelige betydning var at værne bruden mod onde magter
Nogle mener, at brudeslørets oprindelige betydning var at værne bruden mod onde magter – dette er i al fald tilfældet i nogle af de sydeuropæiske lande. Andre er af den opfattelse, at sløret var tegn på mistet mødom, altså to vidt forskellige forklaringer, som i dag ikke har den store betydning, i og med at det er blevet en fast tradition ved de fleste kirkebryllupper. Sløret symboliserer dog for de fleste stadig renhed, uberørthed og jomfruelighed og måske er det derfor, at slør oftest kun anbefales til den kvinde, som er ung og skal giftes første gang.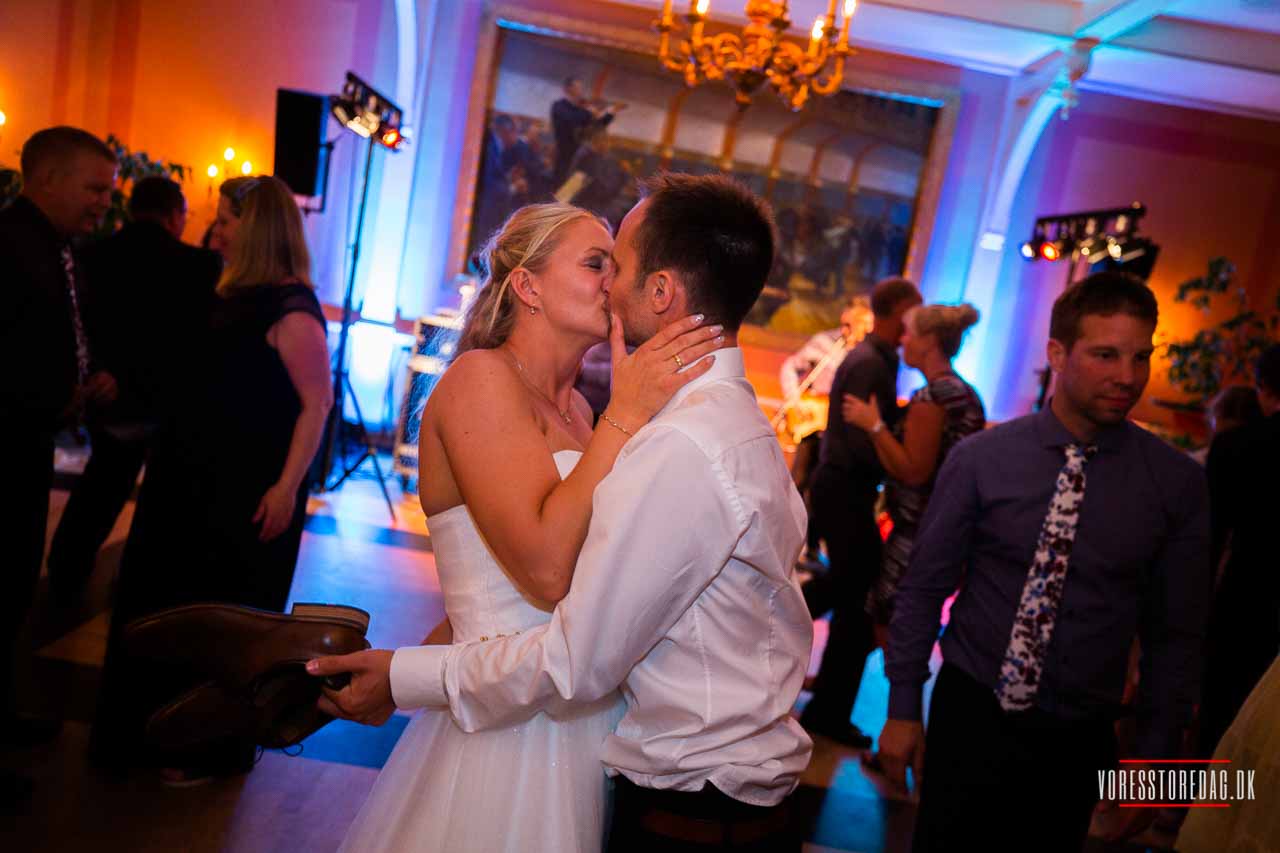 I gamle dage var det almindeligt at bruden bar en krans af myrter, ligesom der var stukket kviste af myrter i brudens slør. Myrterne symboliserer jomfruelighed og kyskhed, og planten var indviet til kærlighedsgudinden Afrodite, hvilket også var tilfældet med rosmarin, der er symbol på troskab og bestandighed.
Mange års erfaring som Fotograf indenfor reklame, virksomhedsfotos og boligreportager.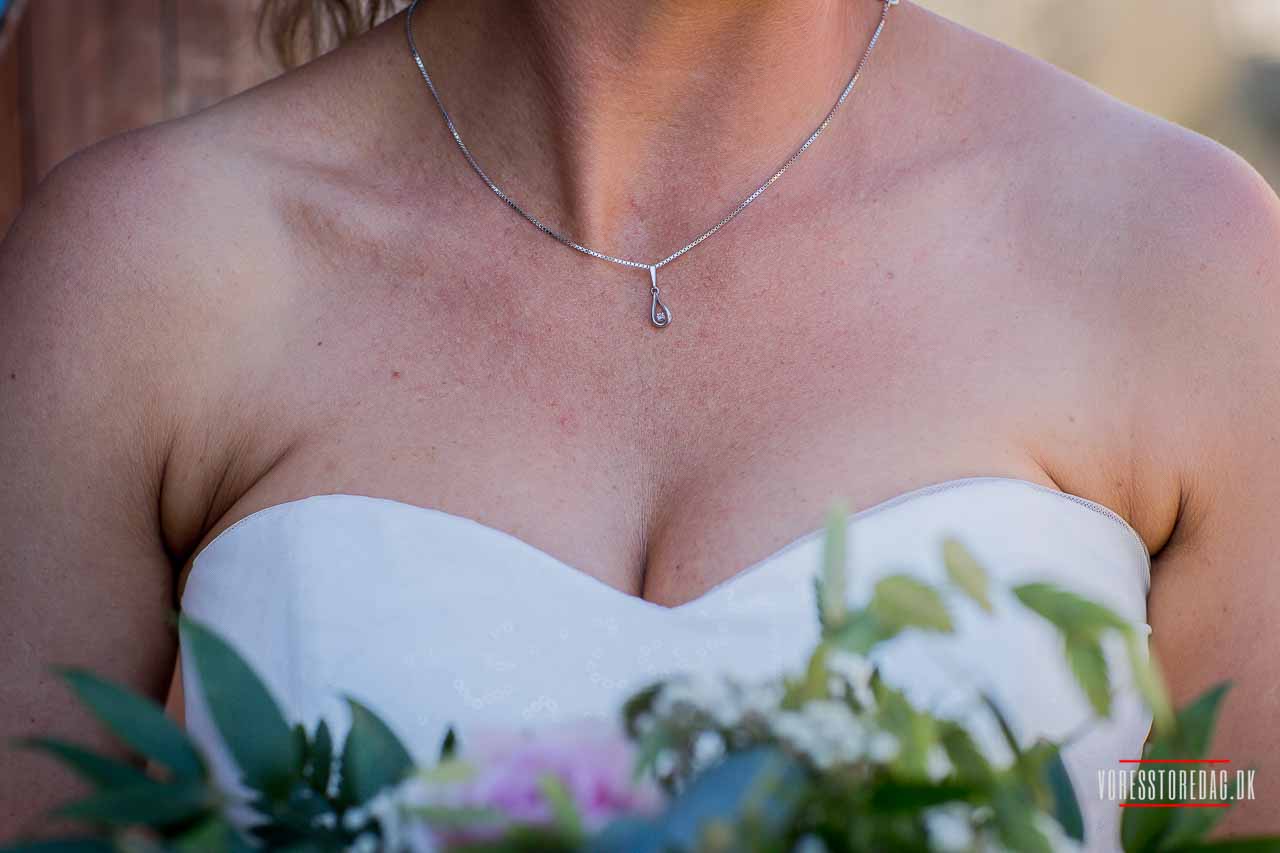 Myrtekransen kom til Danmark sammen med den hvide brudekjole og brudesløret fra Frankrig. Vi hører første gang om en myrtekrans i forbindelse med et bryllup i Danmark i 1806, og skikken med at bruge myrter i forbindelse med hovedbeklædningen startede, som mange andre skikke, i det bedre borgerskabs cirkler, men bredte sig i løbet af 1800-tallet til hele landet.