Ønsker du dig en ren og pæn hud, og et flot, glansfuldt hår til dit bryllup? Så skal du i god tid begynde forvandlingen, og du vil ikke fortryde det.
Der sker ofte det, at man får bumser og tør hud i den første tid, hvor man bruger rensemidler og nye produkter f.eks. i ansigtet.
Vi anbefaler, at du starter forvandlingen af hud og hår ca. 6 mdr. før dit bryllup.
Har du en ynglings parfume? Så sørg for, at badesæbe og kropslotion er i samme serie. Så holder duften hele dagen.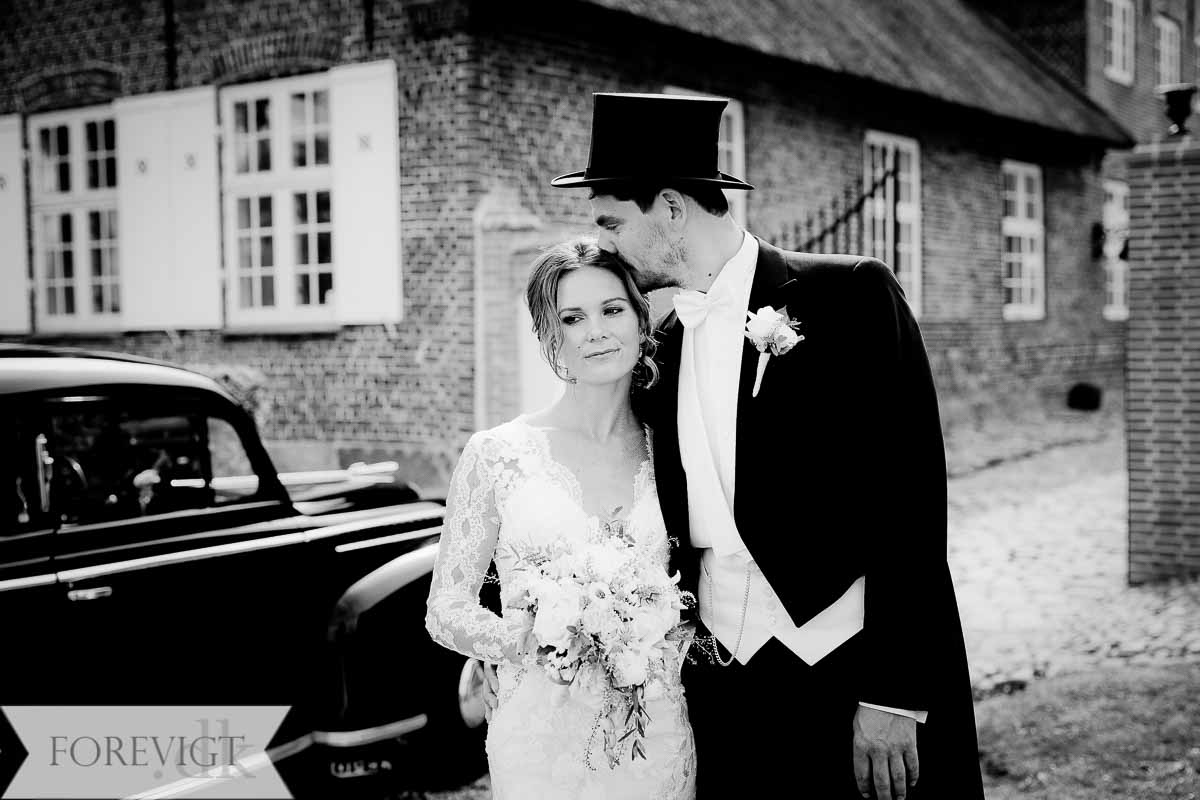 Hår: Find en god frisør, måske har du allerede en du altid bruger. Klip spidser og find evt. en farve som klæder dig. Gå til frisøren hver anden måned. Når tiden nærmer sig, ca. 2 mdr. før bryllupsdagen, kan du begynde, at købe pynt, hårnåle, farve og hårlak. Allier dig med en veninde, som kan være hos dig når du sætter hår på bryllupsdagen.
Øjenvipper: Hvis du gerne vil slippe for mascara der løber, skal du bruge en vandfast. Men måske vil du gerne undgå, at have mascara med i din taske? Så kan du hos de fleste frisører få farvet øjenvipperne til ca. 125 kr.
Øjenbryn: En frisør kan også hjælpe dig med, at få flotte ens øjenbryn. Du har god tid, så prøv dig frem til hvilke linier, der passer til dit ansigt. Når du har fundet din stil, skal du vedligeholde den ved, at ordne øjenbryn 2 gange om ugen. Lær, at gøre det selv.
Eyeliner: Brug altid en vandfast eyeliner, så undgår du at den løber når du står i kirken og kniber en glædeståre. Du kan også få en eyeliner, som holder i helt op til 8 år. Det gøres ved en "tatovering" hos en kosmetolog, og du vil i fremtiden undgå skæve streger under øjnene, og klumper af eyeliner lige over øjenvipperne. En "tatoveret" eyeliner er god hvis du f.eks. er allergisk over for make-up.
Flere ideer til brylluppet:
Bryllup Korsør
Bryllupsfoto København
Bryllupsfoto Rødovre
Bryllupskage
Bryllupsplanlægning
Bryllupstale
Bryllupstransport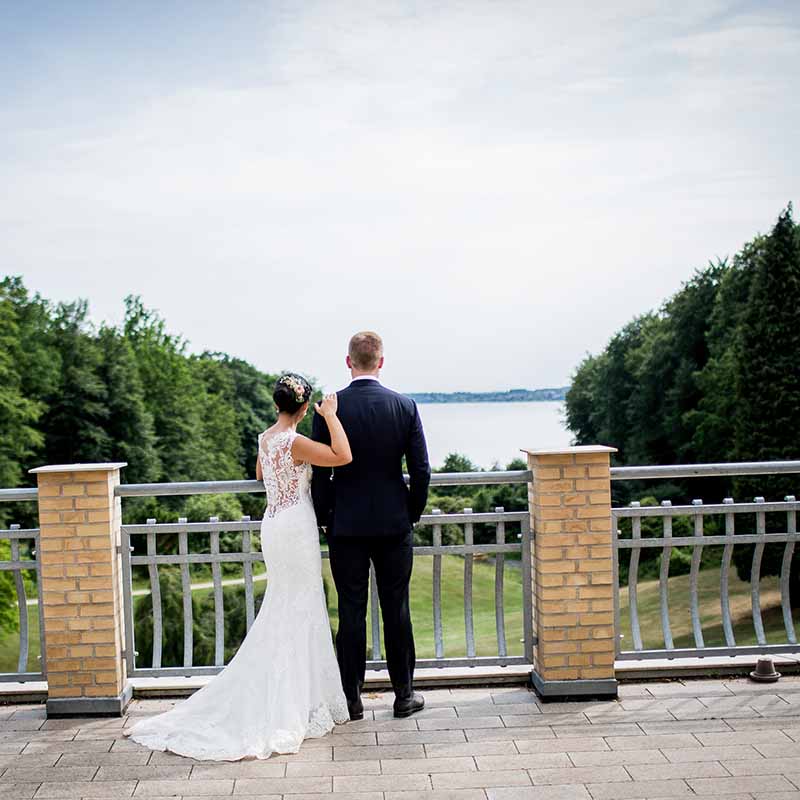 Sørg for, at gå til frisør på dine fridage. Bagefter tager du hjem og lægger en prøvemake-up, og sætter dit hår. Du vil til sidst være så god til det, at du kan spare stylisten. Brug i stedet, pengene på en god creme, en holdbar rouge, pudder og læbestift. Så har du det også bagefter.
Negle: Dine negle er en vigtig faktor i din forvandling. Hvis du hører til den gruppe, der bider negle skal du øve dig i, at lade være. Gnav i en gulerod i stede for. 
Vi er den professionelle bryllupsfotograf, der er specialist i at hjælpe jer med at bevare de smukke minder fra jeres store dag.
Lad neglene vokse til den ønskede længde og fil undervejs så du får flotte rene kanter. Smør neglerødder og overfladen med en god fed creme efter hvert bad.
Når de er tørre, smører du en usynlig neglelak på, det styrker neglene så de ikke knækker så let.
Det kan tage lidt tid før neglene får den rigtige form, men du vil også være glad for det når du når til din bryllupsdag.
Tænk dig om før du bruger kunstige negle. Der kommer ingen ilt under de kunstige negle, og der er stor risiko for, at få neglesvamp, som kan være svær, at få bugt med.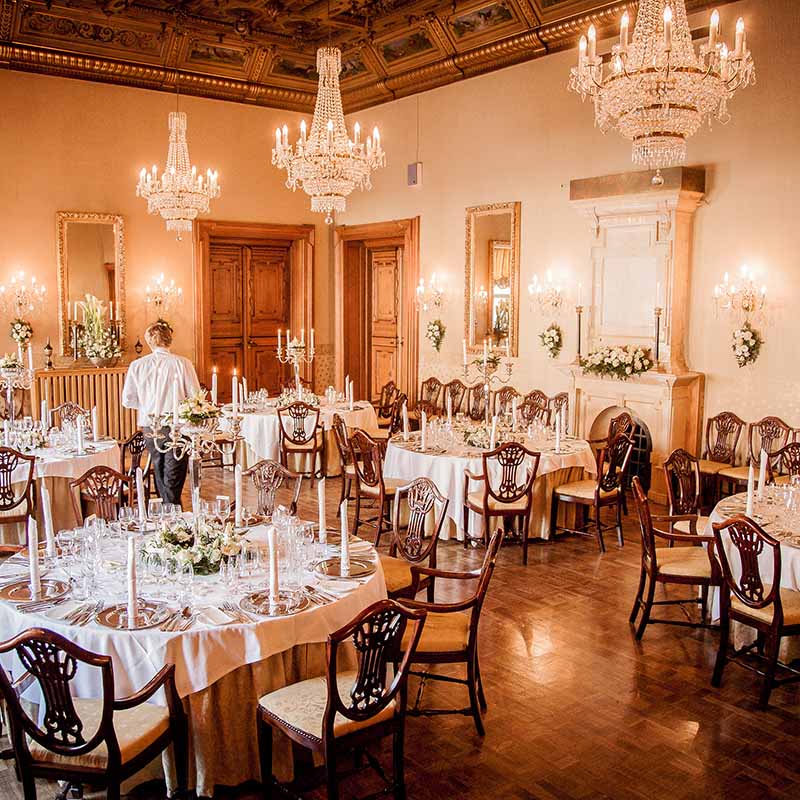 Brudens hud
Hud: Køb en rensemælk som passer til din hudtype og rens huden mindst en gang om dagen. Helst om aftenen.
Husk, at bruge fugtighedscreme både dag og nat. Hvis du har tendens til tør hud, rynker og uren hud, skal du bruge en meget aktiv creme.
Brug creme på hele kroppen efter hvert bad. Glem ikke albuer, knæ og hæl, disse steder bliver hurtigt tørre og grimme, at se på.
Parfume: Prøv dig frem til du finder en mild og holdbar parfume. Køb deodorant, sæbe og creme i samme mærke. Så holder duften længere.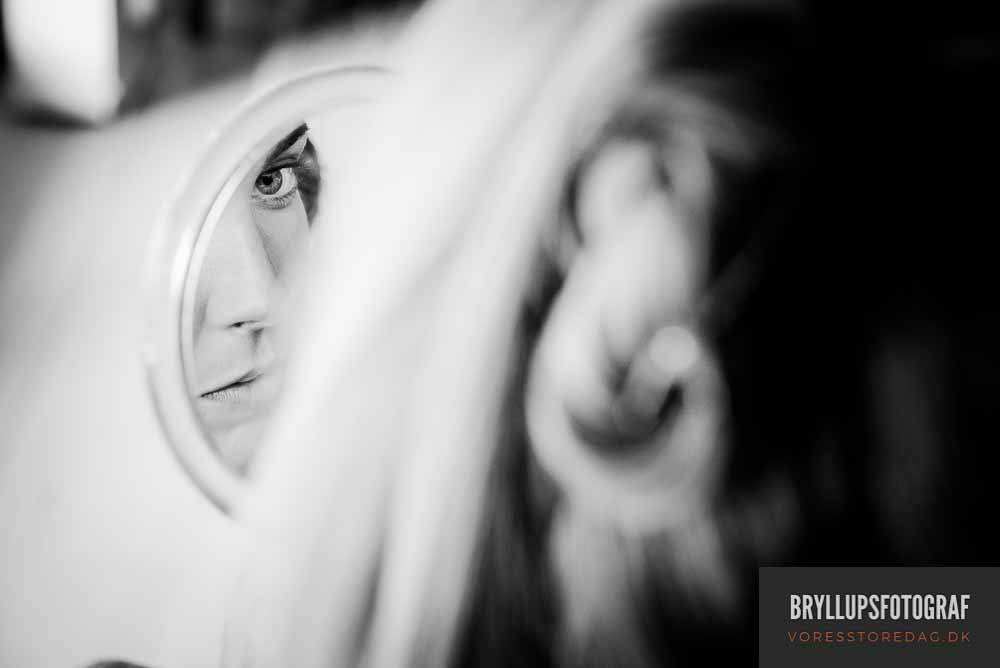 Brug aldrig parfume når du tager sol og når du sover, det giver uren hud. Sprøjt aldrig parfume på dit tøj, da det kan sætte pletter, som ikke kan fjernes.
Brudekjolen: Der findes tusindvis af smukke brudekjoler, og man vil gerne eje dem alle. Men det er bare ikke dem alle som passer til din figur. Under linket -Kjoler- kan du måske få en idé til, hvilken facon, der passer til din figur.
Hvis du vælger kjolen i god tid, typisk 3 mdr. før brylluppet, kan du få lige præcis den du ønsker dig. Regn med, at det kan tage op til 3 mdr. at få din kjole rettet til.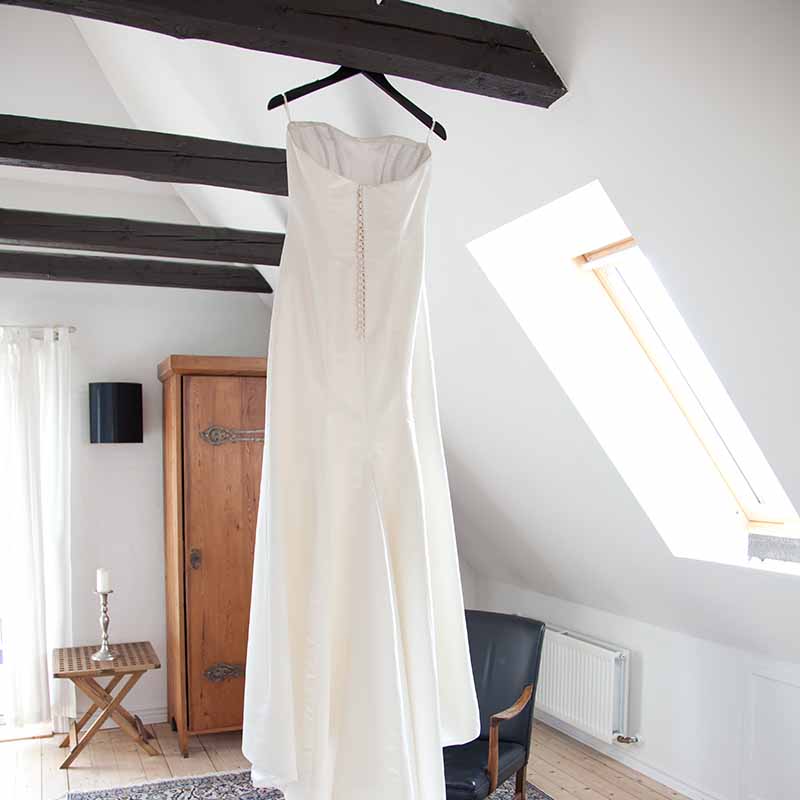 Sko: Det kan være ærgeligt, at have et par dyre sko stående i skabet efter brylluppet. Så find i god tid sko, der passer til farven i den kjole du har valgt. Men køb et par sko som kan farves, så du også kan bruge dem bagefter. De fleste skoforretninger sælger skofarve til under 100 kr. 
For, at undgå sko, der gnaver på dagen, er det en god idé, at købe dem et nummer for store. Læg en sål i skoen, den kan let fjernes, hvis du har tendens til, at få hævede fødder.
Taske: Vælger du, at have taske på din bryllupsdag, så sørg for, at den ikke er for stor. Det er flot hvis den har samme farve som kjolen, da den ikke syner af så meget, og ikke bliver for prangende.
Hvis du har valgt en kjole med meget pynt, skal du vælge et meget enkelt diadem / pynt til dit hår. Der er ingen grund til, at ligne et juletræ.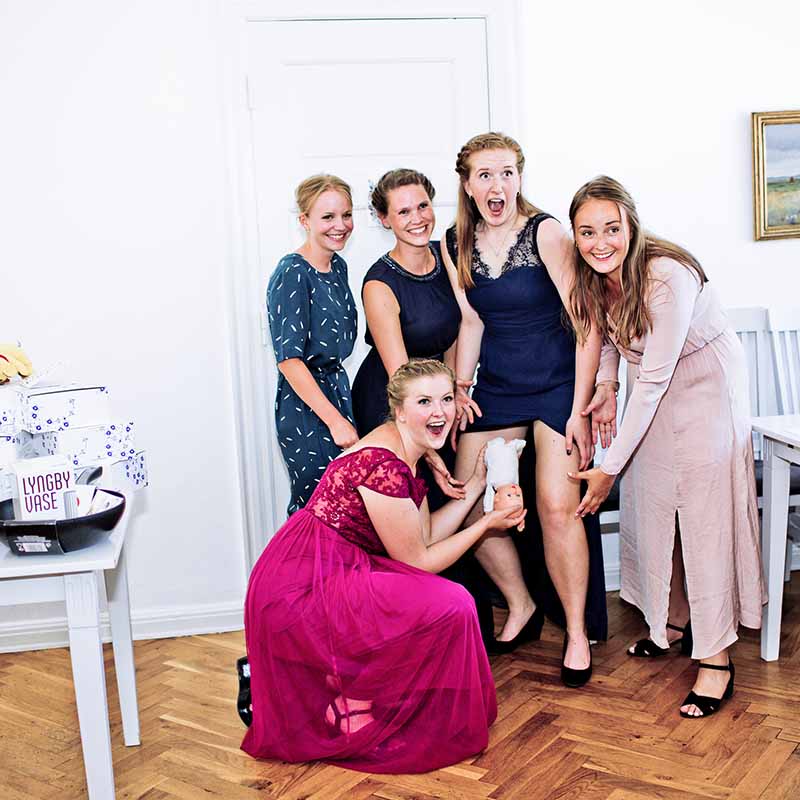 Smykker: Brug enkle smykker, evt. et arvestykke fra din mor eller bedstemor. Sørg for, at halskæde og øreringe passer sammen, så det ikke kommer til, at se for broget ud.
Strømper: Brug tætsiddende / selvsiddende strømper, det ser flot ud og er mere behageligt, at have på en hel dag. Hvis du har tendens til, at lårene gnider mod hinanden, er det en god idé, at smøre et tyndt lag kartoffelmel på indersiden af lårene. Kartoffelmel er blødt og klumper ikke hvis du sveder. Det er mindst lige så godt som dyre cremer.
Sørg for, at have velplejede, og ikke kantede, tånegle, da de ellers let kan rive dine strømper så de løber.
Læs også: